Using proprietary low-heat pyrolysis, Aliquippa has taken its place as a recognized leader in the waste to power industry. Our Thermolyzer™ technology can convert 100% of any biomass waste stream into energy, fuel, and other useful products. And it can do this more efficiently and profitably than any other conversion process... with NO NEGATIVE ENVIRONMENTAL IMPACT. No other waste to energy technology can make those claims.

Our modular and scalable plants are ideal for use by any size organization from a small privately held company to a major power producer, or even a national government. Our plants are environmentally friendly, and much safer for workers than other facilities that create molten products and indisposable toxic wastes.
Our mission is to convert the problem of an ever-increasing organic waste stream into useful products, power, and clean burning fuel. By tapping this resource in an environmentally friendly and responsible way, we can actually change the destiny of our planet.

Our vision is to become a dominant force in the waste to power industry, leading the way for a global paradigm shift in the way we view and utilize waste.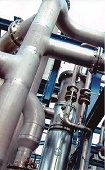 Every facility we build is custom-designed to suit your exact needs. Whether you are a privately held company, a major corporate enterprise, an arm of the military, a municipality, or a national government... we can build a profitable, pollution-free waste-to-energy facility for you.

We will also design your facility to architecturally blend with the landscape, so it won't be an industrial eyesore.
Notice: Thermogas™, Bio-Char™, and Thermolyzer ™ are all trademark names of Thermolyzer, LLC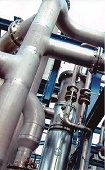 Our plants utilize Thermolyzer™ (low heat pyrolysis) and continuous gassification technologies to insure 100% of your waste stream is converted into resellable products, power, and clean burning biofuel. The conversion processes we use are the latest, most efficient, and profitable in the industry. They have been field-proven with a facility in Germany that has been operating continuously for the past 14 years. Plants are also worker friendly, and do not require highly sophisticated personnel to run them.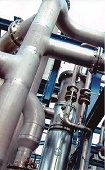 Completion bonds are avilable to insure plants are built on time and to specification. In many cases we can also assist in funding your project.
In most situations local workers (overseen by our field engineers) can complete much of the plant assembly, since many components are modular in design. Designed this way plants can be fully operational in an amazingly short period of time.
Research and Development 70%
Engineering 80%
Plant Construction 90%
Financing 60%
Sales 80%