With our unique modular construction Thermolyzer™ Waste to Power Plants can easily be scaled up or down to accommodate waste streams of any size or composition. Standard plants vary in capacity from 4-150 tons of feedstock per day, and can be fully operational in a matter of weeks.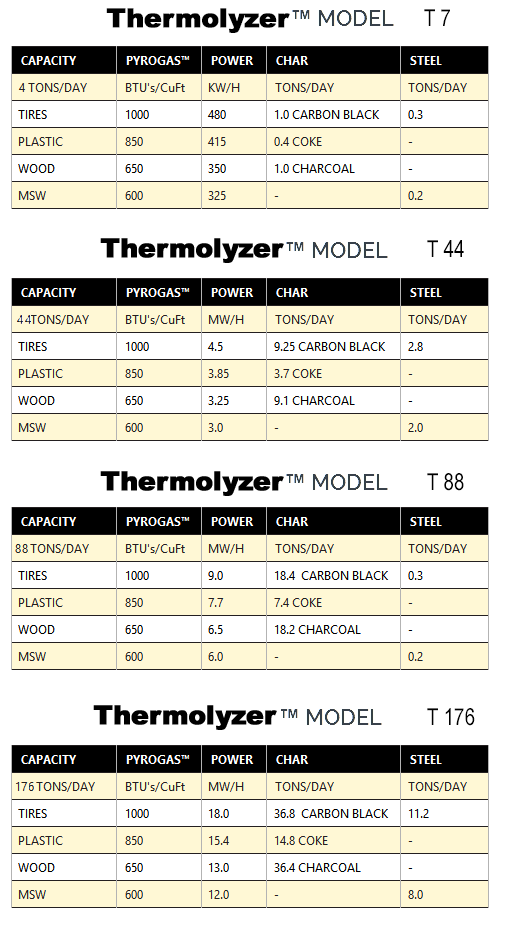 Recovered/Resellable Products
Depending on the feedstock, a variety of useful resellable products, power, and bio-fuel may be produced including:
Thermogas™

This is a natural gas substitue that burns just as clean. It can even be used in gas turbine engines and meets California and European clean air standards.

Carbon Black

We recover hi-grade resellable carbon black, not useless waste like other systems.

Bio-Char™

Biomass produces bio-char (sequestered carbon) that can be used as a hi-grade fertilizer. It may potentially also be used to earn carbon credits.

Coke and Charcoal

Coke can be used in the manufacture of steel, and the charcoal produced may be used as a replacement fuel for heating purposes.

Steel

Steel can be extracted from the recovery/conversion of waste tires.
Notice: Thermogas™, Bio-Char™, and Thermolyzer ™ are all trademark names of Thermolyzer, LLC